Smartwatches provide an easy way to keep tabs on your heart rate, get alerts on unusual cardiac activity, and even take electrocardiograms (ECGs). While you may be familiar with the fitness tracking features available on popular smartwatch models, you may not realize that these wearables include even more advanced health monitoring tools, including ways to notify emergency services during a major health event. 
If your doctor has advised you to monitor your heart health or you're aiming for increased activity and health insights, it could be a great idea to invest in a new smartwatch. All smartwatches are not the same. We've found customer-loved smartwatches from Apple, Samsung, Garmin, Fitbit and more that offer the best heart health monitoring features. 
Why a smartwatch with heart monitoring is important
Keeping a close eye on your heart rate is useful for a number of reasons. It can help you track how hard you're working out, help you manage chronic conditions and possibly even let you know when something is wrong.
If you're shopping for a smartwatch for heart health monitoring, it can be hard to know where to start. There are a ton of new features that can sound a bit complicated if you're new to heart monitoring.  To help, we've compiled this guide to help you understand what to look for and which smartwatch will be right for you.
Best smartwatches for heart health monitoring
These smartwatches have the features you need to monitor your heart rate, take ECGs and more.
Apple Watch Series 8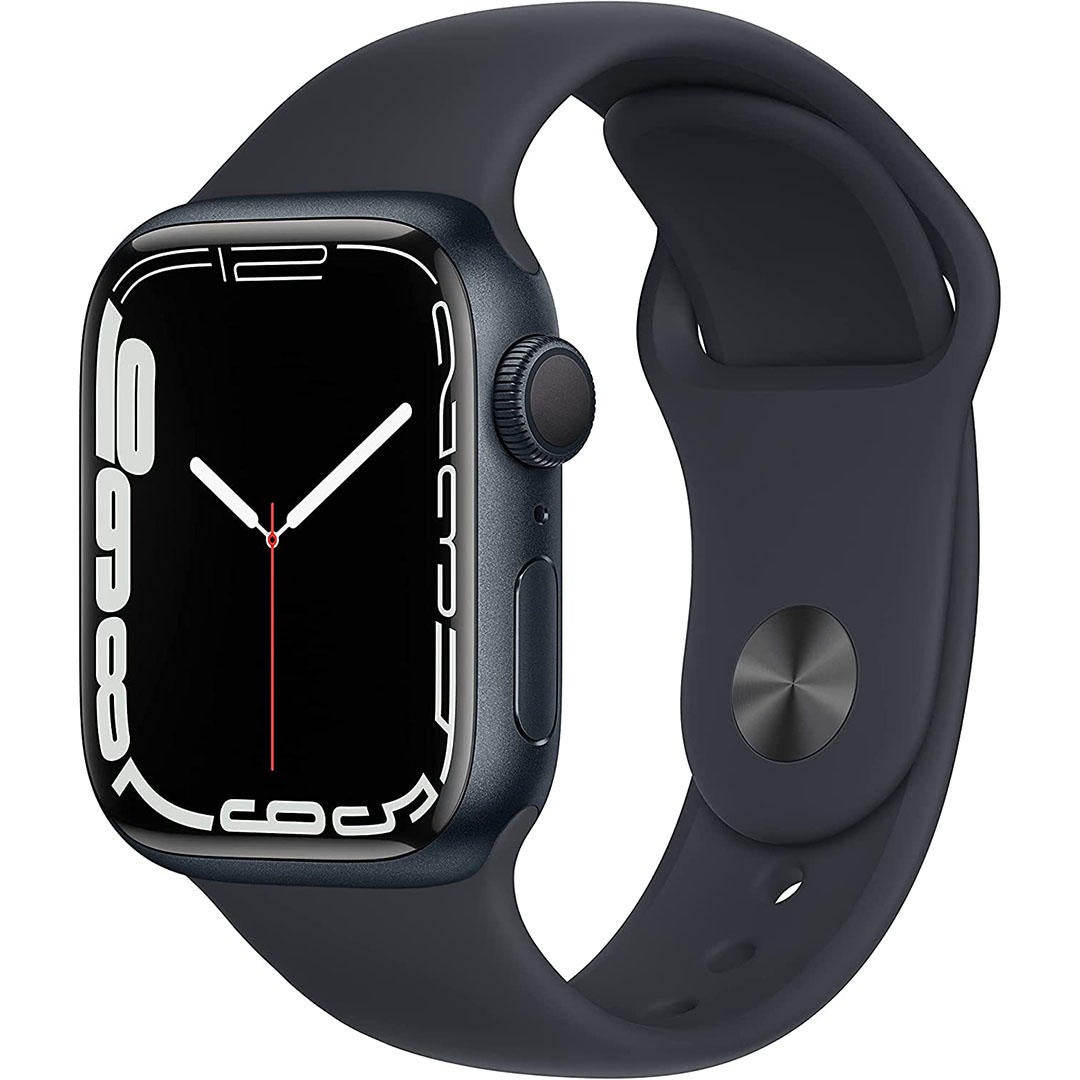 The Apple Watch Series 8 is a durable smartwatch that is swim-proof, dust-proof and crack-resistant with advanced heart monitoring features. It has a number of health-tracking features, including an optical heart sensor, an electrical heart sensor for ECG, a blood oxygen sensor and a new body temperature sensor. 
The watch offers continuous heart rate tracking and can provide notifications when your heart rate goes above and below a set range. Users can also take an ECG reading by placing their finger on the Apple Watch crown and using the ECG app to check for irregular sinus rhythm. These readings are then saved in the Apple Health app. 
The Apple Watch is equipped with an Emergency SOS feature. When enabled, the feature can detect falls and call and send your location to local emergency services. It can also be deployed by holding the side button. It also comes with a new crash detection feature, which detects where the wearer is in a severe car crash and alerts emergency services.
You can tap into yoga, meditation and other workout programs via Apple Fitness+. (Apple Fitness+ is a subscription service. It costs $9.99 a month; Apple Watch buyers get the first month free.) 
Why we like the Apple Watch 8:
Heart rate readings and ECG records are stored in the Apple Health app for easy access.
It can sync with iPhones and other Apple products to share health data, messages and more.
It comes with a built-in blood oxygen sensor and application.
---
Samsung Galaxy Watch 6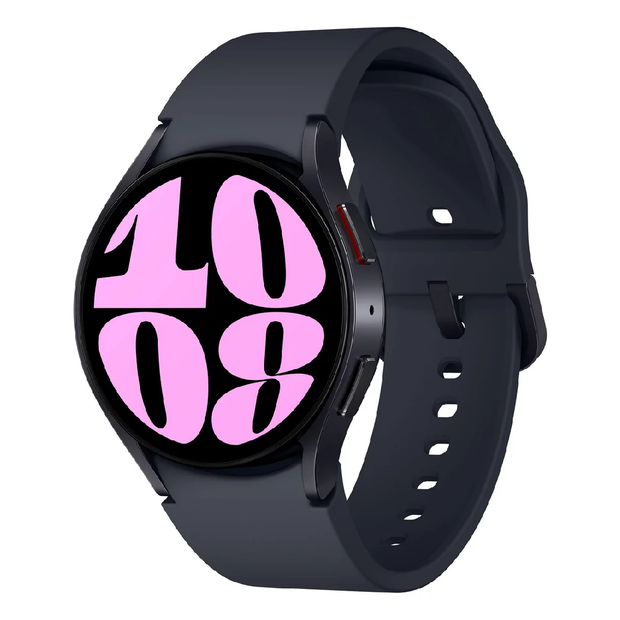 The Samsung Galaxy Watch 6 offers ECG functionality when paired with a compatible Samsung Galaxy smartphone. You can take the ECG on your watch and then open the ECG report on your smartphone to dive into your data. 
The Galaxy Watch 6 features an advanced bioactive sensor that collects more accurate data compared to prior generations. This data can be managed and tracked in the Samsung Health app. It also offers an advanced workout algorithm, heart rate monitoring and sleep-tracking technology.
The always-on heart monitoring features continually scan your heart rate and alerts you with a notification when it's detected an irregular rhythm that could be atrial fibrillation. 
The Galaxy Watch 6 is available in 40mm and 44mm display sizes. 
Why we like the Samsung Galaxy Watch 6:
It can scan your health data to provide personalized heart rate zones for workouts.
It continuously monitors your heart rhythm, whereas most other smartwatches require the user to manually begin an ECG reading.
It can connect seamlessly with Samsung smartphones.
---
 Google Pixel Watch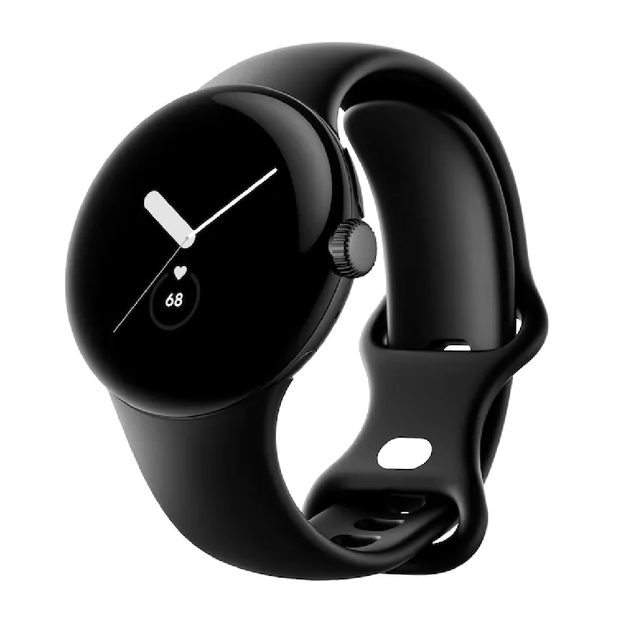 The Google Pixel Watch features a round face with customizable watch faces and tons of band options. It offers an all-day battery life, with up to 24 hours on a single charge. The wearable includes access to the Google Home App, so you can adjust your thermostat or connect to your smart home devices remotely. Users can play music, track fitness activity and receive notifications from their connected phone. 
The Google Pixel Watch is the first Android smartwatch to include integrated Fitbit features. The watch's health features include heart-rate monitoring, workout tracking, sleep tracking and more. The watch includes fall detection. If a fall is detected, the watch uses sensors and machine learning to assess the impact. If no movement is detected after around 30 seconds, it alerts you with vibration, sound, and an on-screen message. Failing to respond with 'I'm ok' or 'I need help' prompts the watch to call emergency services, playing a message requesting assistance at your location.
The watch comes with a free six-month subscription to Fitbit premium and three months of YouTube Premium. The Watch comes in black, silver and gold.
Why we like the Google Pixel Watch:
Includes Fitbit health tracking features integrated into the smartwatch.
It can be used to assess your heart rhythm for A-Fib with an ECG function.
The Google Pixel Watch can detect falls and won't just notify you, but will sound an alarm alerting others around you.
It can call emergency services.
---
Garmin Vivoactive 4S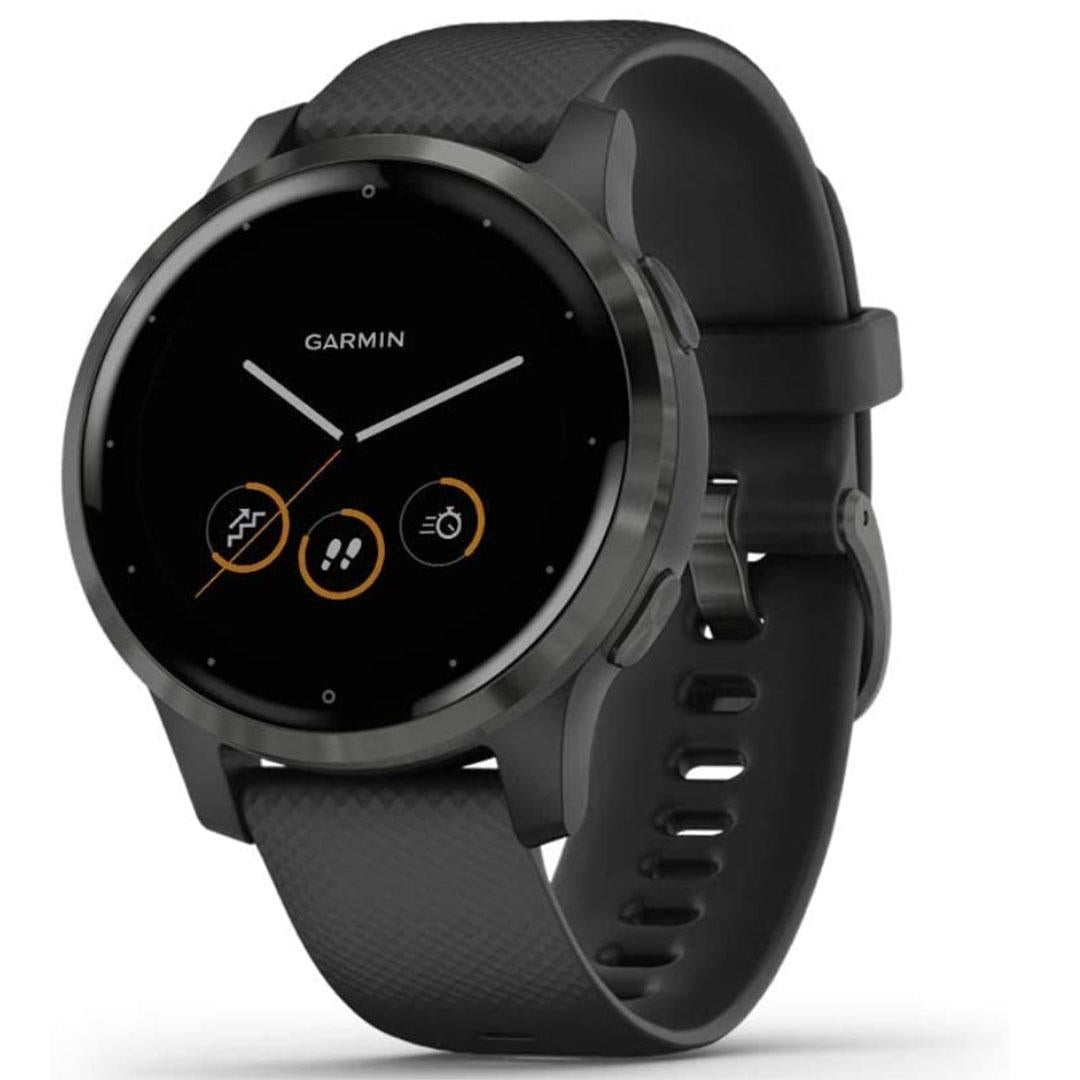 The Garmin Vivoactive 4S uses Garmin's Pulse Ox technology to track your energy levels, respiration, menstrual cycle, stress, sleep, heart rate, hydration levels and more. It can stream downloaded music from Spotify and Amazon Music. When paired with your smartphone, the watch can receive notifications.
This is a great option for people who want to track just the basics. The smartwatch offers a wrist-based heart rate monitor and is also compatible with chest heart rate monitors (sold separately). You can view heart rate data on the heart rate widget.
This Garmin smartwatch features more than 20 preloaded GPS and indoor sports apps. Want a personal trainer on your wrist? This watch can show you animated workouts via your watch screen.
"It's the fitness [features] where Garmin really shines, and it tracks damn near every bodily function you have. Steps is just the beginning. Lots of pre-programmed workouts along with heart rate and Pulse Ox monitoring. Garmin just buries the competition in the fitness arena." wrote one verified buyer on Amazon.
Available in a variety of colors. 
Why we like the Garmin Vivoactive 4S:
It includes a built-in Pulse Ox oxygen monitor, plus heart monitoring and stress-tracking features.
It offers a wide variety of fitness features that many smartwatches don't have. 
It includes an up to a seven-day battery life.
---
Fitbit Charge 5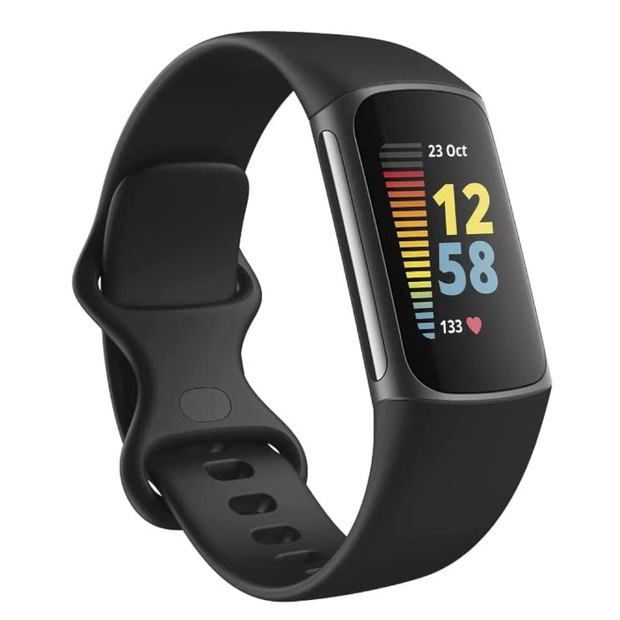 The latest in the Charge line from Fitbit, this well-equipped activity and health tracker packs advanced technology into a slender device and features a color touchscreen. The smartphone-enabled smartwatch can help you manage stress and stay on top of heart health and sleep.
When this Fitbit device detects your heart rate above or below your personal heart rate threshold, you can receive a notification on your compatible device. Tap Open, and then tap the notification in the Fitbit app to learn more about your data and complete a survey where you log any potential factors, medications and symptoms. You can use the information you log in the survey to then track your heart health trends and share it with your healthcare provider.
"The Fitbit was a method of keeping myself accountable for my actions, movements, and goals. Did I walk today? How am I sleeping? Am I moving enough to raise my heart levels? How is my stress? Was I active this week?" shared one Amazon reviewer. The Fitbit Charge 5 does a great job of answering these questions while also telling the time."
The Fitbit Charge 5 boasts a 7-day battery life on a single charge.
Why we like the Fitbit Charge 5:
It offers high and low heart rate notifications.
It allows users to take ECG readings with the Fitbit ECG app.
It can provide a daily readiness score advising whether you're ready for exercise or should focus on recovery.
---
Top features to look for in a smartwatch for heart monitoring
Here are some features to look for when evaluating smartwatch options for heart monitoring. These features can be useful for athletes, those with chronic health conditions or anyone that wants to track their heart metrics. None of these features or readings is a substitute for medical care or formal cardiological tests.
Heart rate monitoring
The most basic function to look for is heart rate monitoring. Almost all smartwatches and activity tracker include heart rate monitoring, but some include more advanced monitoring options like heart rate variability monitoring, stress tracking or heart rate alerts. Heart rate alerts can be adjusted based on your own normal resting and active heart rate (what is normal varies from person to person), to provide an alert if your heart is beating outside of it's normal range for a sustained period of time.
When combined with activity tracking, heart rate reading can help you assess how hard you are working during a workout and how many calories you are burning. This is one of the more popular uses of smartwatch heart monitoring.
ECG capabilities
Many people aren't aware that smartwatches can take ECGs, but the Apple Watch has had ECG functionality for several generations and both Samsung and Google have started offering the feature as well. ECG stands for electrocardiogram (also called an EKG). It is a test that measures the frequency and strength of the electrical signals generated by your heart while it is beating and contracting. The purpose of this test is to check for abnormal cardiac activity such as atrial fibrillation (a type of irregular heart rhythm that occurs when the upper chambers of the heart are out of sync with the lower chambers). 
This is a helpful monitoring tool for those with a history of or who are at risk for irregular sinus rhythm. However, it's worth noting that smartwatches does not check for heart attacks, so you should still always go to the ER if you experience unusual chest pain, as there are many cardiac events that will not be detected by any smartwatch. Those that get a reading of atrial fibrillation should also seek appropriate medical care, as the watch is meant as a helpful monitoring tool and not a diagnostic test or replacement for traditional hospital ECGs/EKGs.
Fall Detection
Fall detection turns your smartwatch into a trendy, more high-tech Life Alert device. If the watch detects a fall it will give you the option to call 911 or a designated emergency contact or report that you are alright. If you don't clear the notification within a set period of time it will then automatically send an alert to emergency services or your emergency contact.  
Fall detection isn't technically a heart health feature. However, if you or the person that you are shopping for need a heart monitoring smartwatch due to a cardiological condition that can lead to falls or fainting, it may help
Phone pairing and Health Tracking
You'll want a smartwatch that can either pair with your phone or provides a compatible mobile app to view data. This allows you to view reports on your heart rate, exercise activity, ECG readings, blood oxygen, stress levels and other recorded metrics. If you have an iPhone, you may prefer an Apple Watch 8 for easy pairing. Similarly, Samsung Galaxy smartphone users may get more out of a Samsung Galaxy Watch 6.
---
Related content from CBS Essentials: