When Tracy Van Epps learned she had terminal anaplastic thyroid cancer in August 2022, she knew chemotherapy wasn't a good fit for her.
Her prognosis was just a few months and doctors anticipated she'd have to go through chemo treatments until her body couldn't take it anymore. 
"That wasn't the way I wanted to live my remaining days," Van Epps said. 
Along with surgery and radiation, Van Epps has been using complementary medicine to treat her illness. Also known as integrative health, complementary medicine aims to work with both the mind and body to address medical issues using acupuncture, massage, reiki, craniosacral therapy and other alternative remedies meant to stimulate the body's energies.
Van Epps gets her health care and health insurance from the Madison-based HMO Group Health Cooperative. She was one of the thousands of patients who received notice earlier this month that GHC would stop offering complementary medicine "by the end of 2023." Earlier this year, GHC also moved away from insuring these types of treatments. 
The move is a change of tune for GHC. The company championed complementary medicine when much of the industry didn't consider it legitimate science. Many patients who depend on complementary medicine have complex and chronic conditions. They're now left with a few months to find alternatives. 
In a letter explaining the change, GHC said it plans to direct more resources to mental health care.
"The retirement of this service is a part of our broader strategy to better address emerging critical health care needs in our community. For example, over the past three years especially, the need for behavioral health has outpaced our capacity to provide services," the letter said. 
In a few months, Van Epps will no longer be able to work with the GHC naturopath — a doctor who uses natural remedies instead of pharmaceuticals —  who helped her manage her illness with supplements, nutrition and by addressing anxiety. 
Van Epps said it's a shame the company is turning away from complementary health and the type of treatment that's helped her outlive her cancer prognosis. 
"I'm still here fighting it holistically, and now I'm going to lose that."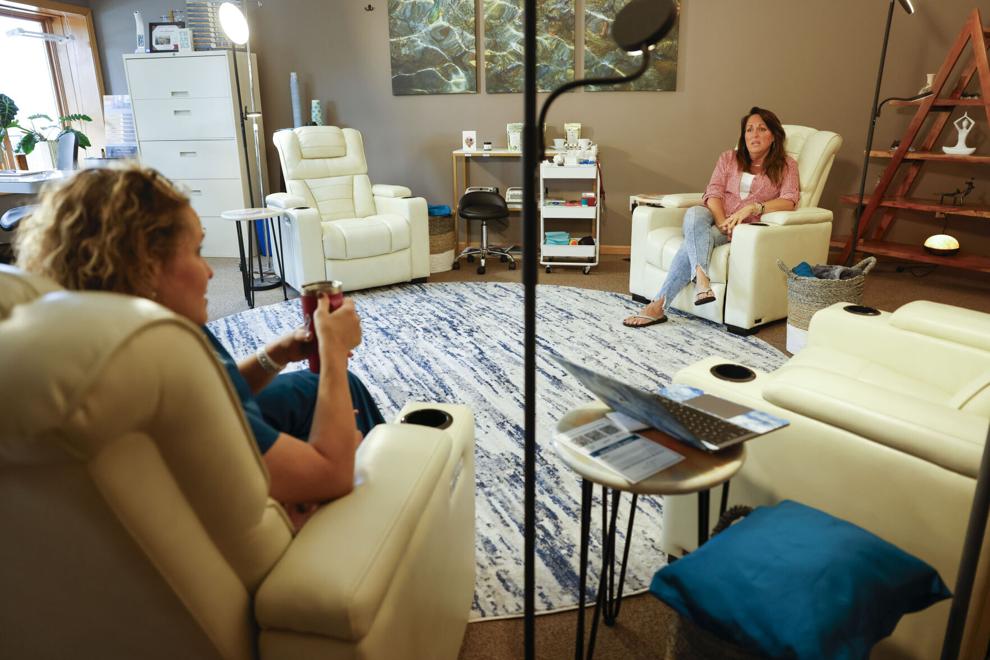 GHC was longtime leader in holistic health
Complementary medicine uses mostly non-Western methods of treating illness. It goes by many names — including holistic, integrative and alternative — and aims to heal the body in natural ways without drugs or invasive medical procedures. It can include everything from chiropractic care to diet changes to more spiritual methods like the use of essential oils and meditation. 
Holistic approaches to treating illness have been around for centuries, but public interest in complementary medicine rose rapidly in the 1990s, said David Rakel, founder of the University of Wisconsin-Madison's Integrative Health Program.
"I think people were getting frustrated with the pharmaceutical-dominated approach to medicine," Rakel said. 
One of the goals of integrative medicine is to be proactive, instead of treating a symptom or addressing an illness after it occurs. 
"We would often just wait until the body broke and then we try to rescue it with our technology," Rakel said. "That works very poorly with chronic disease."
GHC has five clinics in the Madison area and offers health insurance in eight counties in south central Wisconsin. The cooperative was an early adopter of complementary medicine, establishing the department in 2005.
"We were really pioneers in providing these services to the community," said Marty Anderson, chief strategy and business development officer for GHC.
Anderson said cost, along with the increasing availability of this type of care in the region, were factors in the company's decision.
"There are organizations in the community that can offer these services at a much more competitive price than what Group Health Cooperative is able to produce them at," Anderson said. 
GHC also was ahead of the curve by insuring complementary medicine. Many health systems don't, and patients pay for the treatments out of pocket, said Rakel. The slow adoption of complementary care is partly because of the medical establishment's skepticism it is legitimate. 
"When I started the program here (at UW-Madison) in 2001, I spent most of my time doing grand rounds at different departments to show people that I spoke the language of science," Rakel said.
In addition to teaching at UW-Madison's Integrative Health Program, Rakel is a practicing doctor at Yahara Integrative Family Medicine. He said the medical field has come a long way in accepting holistic care, especially as the industry shifts to a value-based mission.
"Value means better outcomes, at a lower cost, with a better patient experience," Rakel said.
Complementary care also has gained prominence as conventional treatments have proved ineffective or even harmful.
"We thought we could treat suffering with an opioid and that led to the tremendous catastrophe  in the delivery of health care of overprescribing opioids for chronic pain," Rakel said. 
The GHC letter notes that as the company "retire(s) the Complementary Medicine program, we honor the role it has had in our story, and we look forward to providing expanded clinical offerings that are attuned to the current needs of our members and community."
Seeing a naturopath for craniosacral therapy
Maleah Moskoff has received health care through GHC for years. She and her husband are both self-employed and they sought out GHC on the insurance marketplace because of its reputation in complementary medicine. GHC's website states in large font, "It's different here! In a really good way."
"What GHC was touting for all these years was looking at the whole person," Moskoff said.
Moskoff was diagnosed six years ago with transverse myelitis, a disease similar to multiple sclerosis, and experienced difficulty walking, sleep disturbance, and bowel and bladder issues. She goes to GHC clinics for her primary care, physical therapy and chiropractic needs. She also frequently sought out complementary medicine. 
Her health issues aren't curable but can be managed and treated, something she believes complementary medicine does well. Moskoff consulted GHC's naturopath and underwent craniosacral therapy, a light massage that aims to relieve pain and buoy the body's own healing abilities. 
"It sounds like woo-woo stuff but (it's) really making me feel healthier in my own body, learning how to kind of listen to my body, trust my body," Moskoff said.
She said she saw GHC's complementary medicine providers monthly, much more than her primary care provider. She refers to her integrative medicine doctors as her "healing squad" and said she was shocked to learn GHC was letting them all go. 
"I will have to find other people," Moskoff said. "So that is stressful."
The Cap Times reached out to multiple GHC complementary care doctors. They declined interview requests and said they were advised to refer questions to GHC's marketing staff. 
Dan Fox was a massage therapist for GHC for eight years. He said GHC's holistic health mission is part of what attracted him to the company, but over time the department became understaffed and financially unstable. 
He thinks the company could have done more to invest in complementary medicine and save the department. For Fox, GHC's statements on holistic health started to sound like empty promises. 
"Our services were used more as a marketing tool to get people to sign up for policies instead of being recognized for the health care tool that they really were," Fox said. 
Fox said he had to leave GHC in 2021 for a higher paying job in asphalt and paving. His fiancee is still a massage therapist there.
"Natural health care providers choose their professions because they want to help people," Fox said. 
Although massage work can be physically demanding and their schedules were always packed, Fox said it was rewarding work. 
"Seeing people barely able to walk into the clinic and being able to move more freely and smiling on their way out after their appointment was a great motivator," Fox said.
Rakel said he was sad to hear GHC will discontinue their complementary medicine department, but has seen it happen time and again. 
"When these clinics started back in the late 1990s, we called them the guillotine clinics because the public was interested in them but the health system wasn't," Rakel said. 
"So they would just kind of sit them out on their own as their own separate clinic. They wouldn't really integrate them into the health system and when they didn't make money — and they never made money — they would drop the guillotine and cut their losses."
The future for GHC patients and providers
Less than 5% of GHC's 79,000 members were using complementary medicine, said Anderson, the company's chief strategy and business development officer. 
The 13 complementary medicine staff members will have their positions terminated at the end of the year. 
Marcy Schulz is a physical therapist with GHC and manages its complementary medicine department. She shared the website the integrative health providers have organized to let patients know where to find them when their time at GHC ends. Schulz said GHC primary care doctors plan to continue referring patients to the complementary medicine providers as necessary.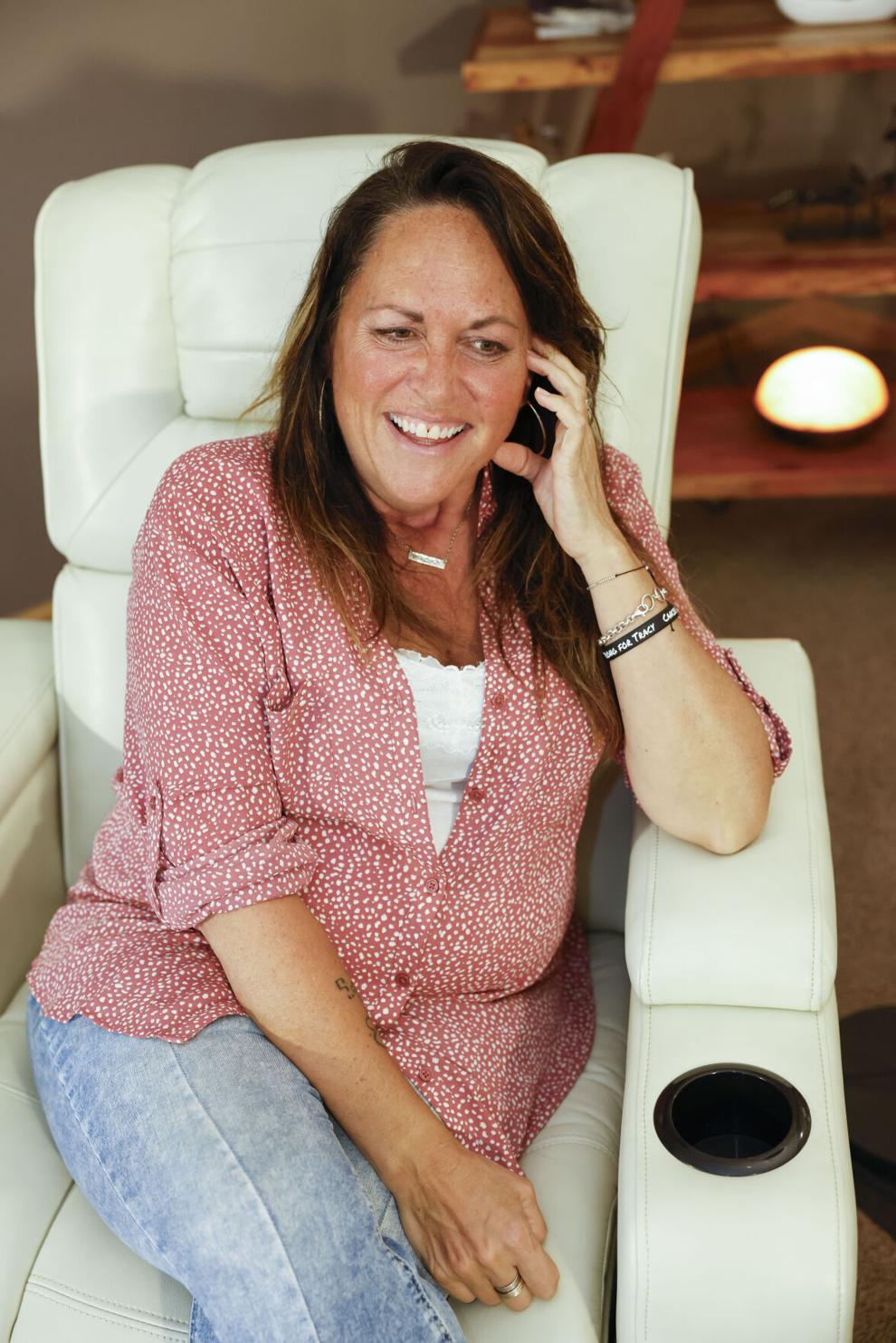 "They will be able to continue to receive some of the services they're accustomed to, just not under the four walls of GHC," Schulz said. 
But finding those services was already difficult, patients say.
Moskoff has noticed the cost of complementary medicine increasing, and availability decreasing. 
"Trying to get in with Miranda (one of her providers) was as hard as getting tickets to a Taylor Swift show," Moskoff said. "You had to call right when the phone lines opened at 8 a.m. or get online to book something 90 days out. I didn't know how to play that game very well."
Demand for integrative medicine is high, and Moskoff wishes she had more than three months to prepare. 
"Sometimes it takes that long to see somebody," she said.
Both Moskoff and Van Epps said they will seek out other health care options when their policies are up for renewal. 
Holistic care was how GHC promoted itself for years, Moskoff said. She feels that retiring this service signifies a change in their mission. 
"I just thought, wow, GHC, what makes you different anymore?"
The end of complementary medicine doesn't have to mean the end of holistic care, said Rakel. If complementary treatments are truly integrated in primary care, separate clinics aren't necessary.  
"Hopefully this will just become good medicine where we use the best therapy for the best outcome for the human," Rakel said.