The ability to control our health could be right inside us.
This is according to the philosophy and practices of Dutch athlete Wim Hof, father of the Wim Hof Method.
Hof, 63, revealed how his teachings have revolutionized public health in an on-camera interview from the Netherlands with Fox News Digital.
LIFE-CHANGING COLD THERAPY HELPS PENNSYLVANIA MOM WITH AWFUL BACK PAIN: 'COULD PICK UP MY DAUGHTER' AGAIN
The Wim Hof Method has three pillars: cold plunging, breathing and mindset.
The method has been proven scientifically — according to numerous medical journals, including the Proceedings of the National Academy of Sciences (PNAS) — to have monumental impacts on mental and physical health.
Nicknamed "the Iceman," Hof shared that one chief benefit of his method is reducing inflammation. It's the leading cause of most ailments and autoimmune diseases, he noted.
"I'm bringing my knowledge from nature through science to global health care, showing that through science — no speculation — we are able to do so much more within our physiology," he said. 
NEW YORK POLAR PLUNGE GROUP DIVES INTO 'LIFE-CHANGING' COLD WATER THERAPY: 'NEVER FELT BETTER'
"And I think it's time to have that get out to the world to bring people some consolation in these confusing times, that there is much more autonomy over mind and body," he said.
"I'm a man on a mission. I want everybody to be happy, strong and healthy."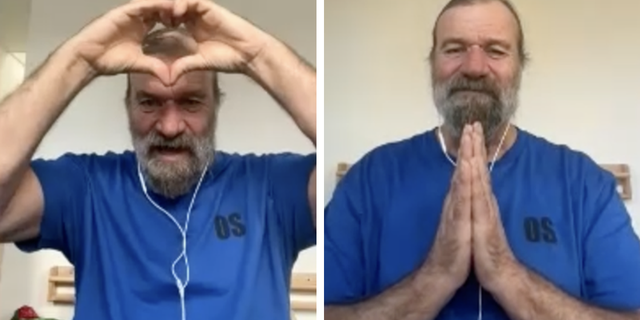 His "powerful" techniques are "available for anybody" worldwide, he said. All it takes is commitment and a little cold water.
Who is Wim Hof?
Hof is best known for his daring physical feats, such as running marathons while barefoot beyond the polar circle and climbing through the "death zone" of Mt. Everest in only his shorts.
"I began to have control over my emotions."
The extreme athlete first felt the pull to immerse himself in the cold as a kid growing up in Sittard, Netherlands, according to his book, "The Wim Hof Method."
At 17, Hof took his first cold plunge on a Sunday morning in winter at Beatrixpark in Almere, Netherlands — and discovered the power of cold water.
Hof met his wife, Olaya, when he was 22 years old. The couple had four children together.
Olaya struggled with depression — and in 1995, she fell victim to the illness and committed suicide.
"The whole of psychiatry could not help [Olaya]," he said. "How broken I was in my heart and there was nothing that could help me."
WARNING SIGNS OF SUICIDE: WHAT TO KNOW ABOUT PREVENTION, RED FLAGS AND HOW TO DEAL WITH THE ISSUE
He continued, "I had no money. I had four kids left behind and the love of my
…
Read More...
Read More