The healthcare landscape is changing. External forces, such as the pandemic, are behind some of that change, but so are digital health leaders pushing for improved care delivery, equity and patient outcomes.
Change in digital health comes in different forms. Driven by patient requests for on-demand access to care, clinician shortages and the growing collection of patient data, developments around digital-first strategies, virtual care, clinician workflow efficiencies and interoperability are continuing to evolve in response.
Clinicians and patients have become much more reliant on digital health solutions, and now the focus has turned to how to best manage and integrate these tools while maintaining a secure environment. The successful implementation of these technologies and strategies depends on cross-team conversations and holistic approaches to clinician workflows.
HealthTech is excited to highlight the leadership and hard work of 30 healthcare IT influencers driving innovation and change in the digital health space. These leaders offer valuable insights into successful technology implementations.
Did your blog, podcast or account make our 2022 Health IT influencers to Follow list? If so, be sure to grab our healthcare IT influencer cover image for your Twitter page to share the news with your followers!
Click the banner below for access to exclusive HealthTech content and a customized experience.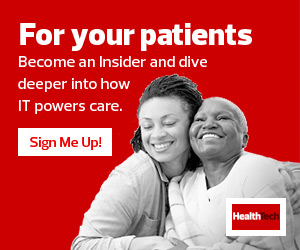 Dr. Ana Velázquez Mañana is a clinical instructor at the University of California, San Francisco. She tweets about oncology research, health disparities and Latinas in medicine.

Andy Mychkovsky is a strategic adviser and independent consultant for healthcare startups, private investors and companies looking to develop or improve their go-to-market approach. He is also the founder and writer of Healthcare Pizza, a blog focused on breaking digital health into bite-size pieces on a weekly basis.

Dr. Anupam B. Jena is an associate professor of health care policy at Harvard Medical School and an associate physician at Massachusetts General Hospital. He is also the host of the Freakonomics, M.D. podcast. Every week, he explores a fascinating question at the intersection of medicine and human behavior.

Dr. Ashish Atreja is the CIO and chief digital health officer at UC Davis Health. He leads innovation technology and partners on digital and data initiatives under the UC Davis Digital CoLab.


Beverly Malone is the president and CEO of the National League for Nursing, a resource for nursing education tools, trainings, events and news. She has served as president of the American Nurses Association and as deputy assistant secretary for health at the U.S. Department of Health and Human Services.

In addition to running The Nerdy Nurse blog, which focuses on topics such as nursing and technology, Brittney Wilson is the senior manager for support communities at HealthStream.

Chris Recinos is the CEO and founder of the Nurse Leader Network and host of its eponymous podcast, which focuses on helping nurse leaders grow.

Danielle Siarri works as an adjunct professor at the University of New England and is the lead publisher for InnoNurse, a healthcare technology news site.
…
Read More...
Read More